UC Berkeley has a rich tradition of international engagement with institutions and researchers from all over the world who are committed to the advancement of research, scholarship, and service. We are of the firm belief that the international student and scholar community are vital to the intellectual life of the university and to our teaching and research mission. We remain committed to protecting these interests. This is a time when we are experiencing unprecedented events both within the U.S. and globally. It is therefore incumbent upon us to advocate for sound legislation and policies that are more welcoming and reflect our values.  
The University of California system and UC Berkeley continue to monitor and advocate for sound legislation around immigration matters. Following is an update of what efforts are being made to address specific issues. When situations arise where you can assist, we will provide links for you to follow to join our advocacy efforts. For updates regarding the most recent U.S. immigration policy, Executive Orders, and travel advisories, please see BIO's Immigration Policy Updates & FAQ webpage.
Resources for the Turkey-Syria Earthquake
In light of the tragic loss of life and destruction caused by the eathquake that struck Turkey and the surrounding areas on February 6, 2023, BIO would like to share a variety of resources and avenues for support:
Request for Vaccination Requirement Flexibility
The United States administrion recently released an announcment, sharing that current travel restrictions will be lifted and replaced with a new travel and entry policy in November, allowing travelers to enter the US who can demontrate that they have been fully vaccinated. While this policy allows greater flexibility for international travelers, it can also create barriers for international students and scholars who do not have access to US-approved vaccines.
The American Council on Education has written a letter requesting that the administration continue to grant flexibility for international students, scholars, and researchers from countries where the vaccine is not widely available, and preserve their ability to enter and be vaccinated in the US upon arrival.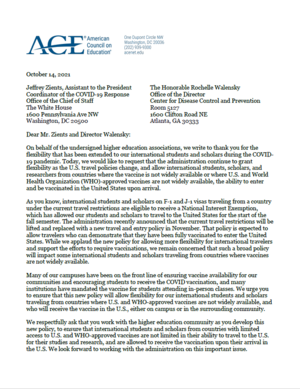 Resources for Afghan Refugees
The Taliban takeover of Afghanistan in August 2021 has caused tens of thousands of Afghans to attempt to flee the country. Berkeley International Office has compiled some relevant resources for Afghans, their friends, and colleagues who may be seeking information about immigration options.
BIO does not have the expertise or immigration knowledge to advise on this process. We encourage you to contact an immigration attorney and carefully review the avaliable resources. 
The situation in Afghanistan is still constantly developing. These resources provide information and opportunities, but could be outdated, and should not act as a substitute for legal advice from an attorney. 
Fall 2021 Semester
International students are facing consular closures, visa backlogs, and travel restrictions, all of which threaten to make it very difficult for them to come to U.S. campuses this fall. International higher education groups are advocating for the U.S. government to take actions now that will allow international students to come to the U.S. for the Fall 2021 semester.
Optional Practical Training (OPT) USCIS Lockbox Delays
An extended delay in USCIS receipting of OPT and STEM OPT applications is causing stress and anxiety for applicants nationwide. Berkeley International Office is closely monitoring this issue and will provide updates on this page.
Updates:
On March 1, 2021, NAFSA joined AILA and 15 other organizations in sending a letter to USCIS urging the agency to implement the Emergency Stopgap USCIS Stabilization Act provisions that authorize USCIS to expand premium processing to additional form types, including Form I-539 and Form I-765.
On February 26, 2021, USCIS announced flexibilities for students whose OPT applications were received on or after Oct. 1, 2020, through May 1, 2021.
On February 24, 2021, NAFSA sent a list of recommendations to USCIS.
On Feburary 18, 2021, USCIS sent OPT applicants an update (scroll down to "

February 18, 2021.

 USCIS News Alert updates stakeholders.")

 on the Lockbox receipting delays.
On January 26, 2021, the American Council on Education (ACE) sent a letter to DHS (co-signed by NAFSA and numerous other educational associations) advocating for a variety of relief measures for affected students.
On December 15, 2020, a Stakeholder Message from the USCIS Public Engagement Division acknowledged significant delays in the processing of receipt notices for OPT applications that are filed at USCIS lockboxes.
Litigation:
A class action lawsuit led by 18 students with F-1 status and filed on February 16, 2021 asks USCIS to speed up the processing of OPT applications.
Optional Practical Training (OPT)
The Trump administration targeted Optional Practical Training (OPT), a program that allows international students to work in the U.S. for 12 months, usually after graduation, and 24 additional months in science, technology, engineering and math (STEM) fields. A summary of a rule proposal on the agenda stated: "ICE [Immigration and Custom Enforcement] will amend existing regulations and revise the practical training options available to nonimmigrant students on F and M visas." In Spring 2021, the rule proposal was removed from the Department of Homeland Security (DHS) Regulatory Agenda.
OPT has also been challenged by a lawsuit from the Washington Alliance of Technology Workers (WashTech). In 2016, WashTech filed suit in the U.S. District Court for the District of Columbia against both the 2016 24-month STEM OPT rule and the standard 12-month post-completion OPT rule. Please find litigation updates below.
Updates:
Advocacy efforts in support of OPT:
DOL and DHS H-1B Rules
UPDATE: On December 1, 2020, the U.S. District Court for the Northern District of California set aside both the Department of Labor and Department of Homeland Security interim final rules which had been published on October 8, 2020. This blocks both rules from being enforced or implemented. Read more on NAFSA's website.
On October 8, 2020, both the US Department of Homeland Security (DHS) and US Department of Labor (DOL) published separate Interim Final Rules (IFR). The new DHS regulations, along with the companion DOL regulations, will affect the wage minimums for the H-1B and PERM programs. The IFRs are a result of President Trump's April 2017 proclamation, "Buy American Hire American" (BAHA)
The DOL rule, which took effect on October 8, 2020, amends existing regulations governing the H-1B and PERM programs. Specifically, the rule will change the computation of the wage requirements for non-represented positions. 
The DHS rule, which takes effect on December 7, 2020, is titled "Strengthening the H-1B Nonimmigrant Visa Classification Program." Changes include revised definitions and standards for a "specialty occupation" and "employer-employee relationship," limited petition validity for third-party placements, and other changes that make use of the H-1B category more challenging.
BIO has serious concerns about the implementation of these rules and is working with colleagues in the office of Federal Government Relations at the University of California, Office of the President (UCOP) to fundamentally advocate against these rules.
Litigation:
Chamber of Commerce et al. v. DHS et al. challenges both the DOL and DHS interim final rules. See the U.S. Chamber Litigation Center for more information, including case filings. A hearing took place on November 23, 2020 and we are awaiting the court's decision.

Purdue, et al. v. Scalia challenges the DOL rule only. The hearing, originally scheduled for November 13, 2020, was cancelled by the court because it expects to issue a decision soon. See the Purdue website for more information, including case filings.  

American Council on Education (ACE) filed two amicus briefs that support the motions for preliminary injunctions in the California and District of Columbia cases. 
DHS Proposed Duration of Status Rule
On June 14, 2021, the Department of State published its Spring 2021 regulatory agenda and announced that it intends to withdraw the proposed rule to eliminate duration of status (D/S) that it had published on September 25, 2020.
January 2021 update from NAFSA: "

When the Biden Administration issued its Regulatory Freeze memorandum on January 20, 2021, DHS had not yet sent a final duration of status rule to OMB for review or to the Office of the Federal Register for publication, paragraph 1 of the Regulatory Freeze memorandum would likely mean that no final rule could advance 'until a department or agency head appointed or designated by the President after noon on January 20, 2021, reviews and approves the rule.'"
On September 25, 2020, the Department of Homeland Security published a proposed rule that seeks to eliminate the practice of Duration of Status and replace it with a date certain I-94 end date. Instead of being admitted for the duration of the program of study (D/S), individuals applying for admission in either F or J status would be admitted for the length of time indicated by the program end date noted on their Form I-20 or DS-2019, plus a period of 30 days following their program end date. At this time this is only a proposed rule and it is unclear if and when it will become a final rule.
BIO has serious concerns about the implementation of this rule and is working with our colleagues in the office of Federal Government Relations at the University of California, Office of the President (UCOP) to put together a statement that jointly reflects the comments of all ten of the UC campuses to fundamentally advocate against this rule. In the meantime, please see the resources below for ways to advocate against this rule.
ICE Guidance for Fall 2020
7/15/20 UPDATE: On Tuesday, July 14th, 2020 the Department of Homeland Security (DHS) agreed to rescind in its entirety the July 6th guidance and July 7th FAQ pertaining to Fall 2020 instruction for F-1 students. Based on a July 15th SEVP Update, universities will revert to the DHS guidance provided for Spring and Summer 2020, which is now extended into the fall semester.
Please read our new, updated July 15th Updated BIO Guidance related to Fall 2020 Instruction email for detailed information, and note that this information is subject to change. Please watch for more emails from BIO and updates to our COVID-19 FAQ page.
On July 6th, U.S. Immigration and Customs Enforcement (ICE) issued guidance to universities indicating that it would issue a regulation in the coming weeks that could potentially force many international students to return to their home countries if they are taking entirely online classes for the Fall 2020 semester.
Litigation:
Letters from legislatives: