Requirements:
Pre-Arrival Online Webinars

These online webinars are presented by Advisors at Berkeley International Office and are designed to give you basic tips for making a smooth transition to Berkeley. Click the links below to view on YouTube, or visit our Tudou page.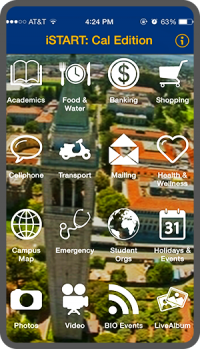 iStart: The Cal Edition App
Not just any mobile app-it's your gateway to living, studying, and thriving at UC Berkeley.
iSTART: Cal Edition was developed by an international student and Berkeley International Office to assist new students adjust to the unique CAL culture.
Get quick information on topics essential to your arrival to campus such as food, transportation, banking, health, academic success, and more!
To Download the app, go to Google Play or Apple iTunes and search for "iStart: The Cal Edition."