Below is a list of Bay Area resources that work with the Berkeley International Office in supporting our orientation and programming efforts. We are thankful for the valuable contributions these donors provide which enable us to enhance the new international student experience.
Level 5 donors
As the official bank of UC Berkeley, Bank of the West provides friendly local service backed by the global strength of BNP Paribas. 
They just launched their 1% for the Planet checking account, the first bank account designed for climate action. Additionally, they offer a student checking account with access to exclusive deals. Good news—both accounts have a $0 monthly service charge as long as you are under the age of 25.
Make life easier for yourself by having a branch and 10 ATMs right on campus and an awesome mobile banking platform. To learn about banking in the U.S., check out our answers to these frequently asked questions, and take a look at our 10 Financial Tips for International Students.
 To learn more about Bank of the West's sustainability story, visit bankofthewest.com/change.

With more than 1M international students studying in the U.S. under F, J, and M visas, Deserve's mission is to help these deserving students access a U.S. credit card and start establishing their U.S. credit history early. As former international students ourselves, we developed a special approval process that goes beyond standard credit scoring. Deserve identifies financially responsible international students without requiring a Social Security number or a credit history to apply. In addition to our credit card, we offer international students the opportunity to win scholarships, and to connect and engage with our social media channels. We also offer educational resources and a credit education program designed to support and enrich their journey in the U.S. The videos, interviews, and researched articles we share online and in print offer students thoughtful insight and advice on topics including work authorizations, the U.S. financial system, and American culture.

campusSIMs is a mobile phone service designed for international students studying in the United States. Our mobile app allows customers to get their phone registered anywhere they have WIFI. No need to leave campus or wait for a SIM card to get shipped.
All plans are no contract and customers can freeze their accounts if they travel home for winter or summer break.
Get unlimited talk and text with 2GB of data for just $35/mo!
Level 3 donors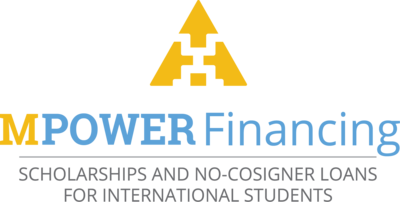 MPOWER Financing provides scholarships and student loans exclusively designed for international students. What makes MPOWER unique is that their fixed-rate loans do NOT require a co-signer, collateral, or a U.S. credit history. They also offer interest rate discounts and loans can range from $2,001 - $50,000.

Cricket brings more value with a simple, smarter, friendly wireless experience on our reliable nationwide 4G LTE network that covers more than 99% of Americans.* Our easy-to-understand and affordable service plans include monthly taxes and don't require an annual contract. And our top-brand phones at affordable prices give our customers something to smile about. Visit cricketwireless.com to learn more or find a store near you. Stay up-to-date with the Cricket and connect with us on Facebook and Twitter.