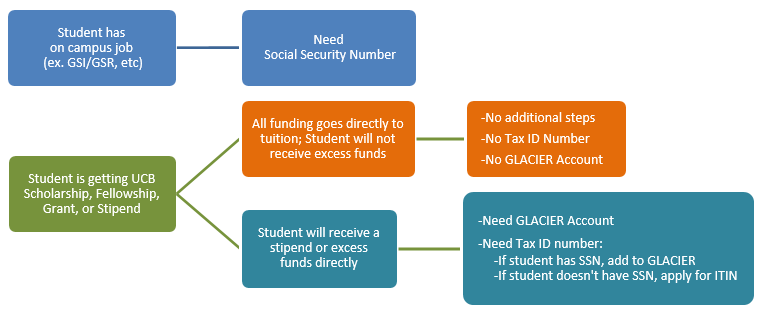 Do J-1 students or scholars need an ITIN?
J-1 students who are employed (e.g., GSI/GSR, other student workers) and J-1 scholars are NOT eligible for an ITIN and must apply for a SSN at a Social Security Administration office. Please consult with Berkeley International Office to collect necessary social security authorization forms before applying for the SSN.
Will my fellowship be put on hold if I do not have an Individual Taxpayer Identification Number?
To comply with IRS tax rules, you must submit complete GLACIER tax records to the Payroll Office and a complete ITIN application to the Berkeley International Office. Berkeley International Office will notify the Payroll Office that you have applied for an ITIN. The Payroll Office will then release the funds. The UCB Payroll Office is allowed to issue the payment before the ITIN is issued by the IRS.
What is GLACIER?
GLACIER is a secure online tax-compliance system that the University uses to manage tax information for foreign nationals receiving payments from UC Berkeley. Please request a GLACIER account from your academic/fellowship department. Further information regarding GLACIER can be found at the UCB Payroll website. Note: A complete GLACIER record as well as an ITIN application are required before the Payroll Office can release the payment.
I am receiving I-House financial aid. Do I need a GLACIER account?
Students receiving I-House financial aid in the form of reduced room and board fees, and who are not receiving any other income (employment wages or financial aid) from UC Berkeley, do NOT need a GLACIER account.
How long does it take to receive an ITIN from the IRS?
It takes approximately 8-12 weeks for the IRS to process and issue an ITIN, which will be sent to the student by mail. Any inquiry regarding an ITIN application status should be directed to the IRS at 1-800-908-9982 (select option 1 for English, then option 2 to check ITIN application status). If an ITIN rejection or request for additional information is received, please bring the notice along with the materials used to apply for the ITIN to Berkeley International Office. If the ITIN application is approved, log in to GLACIER and enter the number into the record.
What if I receive a Social Security Number (SSN)?
From the IRS website:
"Once you receive a SSN, you must use that number for tax purposes and discontinue using your ITIN.  It is improper to use both the ITIN and the SSN assigned to the same person to file tax returns.  It is your responsibility to notify the IRS so we can combine all of your tax records under one identification number.  If you do not notify the IRS when you are assigned a SSN, you may not receive credit for all wages paid and taxes withheld which could reduce the amount of any refund due."
To notify the IRS, follow the instructions here.