While at Berkeley, a student or scholar may want to invite a family member to visit. The following provides some suggestions to help family obtain a visa to enter the U.S.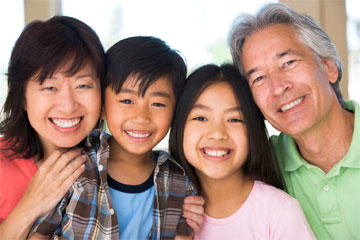 Adding a Spouse or Child(ren)
 If a student or scholar will be in J-1 or F-1 status, the legal spouse and children under age 21 may be eligible for J-2 or F-2 status to accompany or follow separately to the U.S.  See the steps below for how to obtain F-2 or J-2 dependent status for your family member.
* For F-1/J-1 Students Adding a Spouse- Be sure to review our F vs J Comparison Chart to see if the dependent visa category and benefits make sense for your spouse's needs and plans in the US, and check with a BIO advisor with any questions. 
1 ) Request F-2/J-2 Documents-To request a Certificate of Eligibility I-20 (F) or DS-2019 (J) for the purpose of inviting family in J-2 or F-2 status, please complete the Adding Dependent Request Form (see below) and submit it along with the required attachments to Berkeley International Office. A new I-20 or DS-2019 form will be prepared for each family member. THE F-2/J-2 DS-2019 ALONE DOES NOT GRANT STATUS!  Your family member will need to follow steps to apply for F-2 or J-2 status by obtaining a visa, or USCIS change of status. (See below.)
 2 ) Receive and Sign F-2/J-2 Documents- After receiving your new documents from Berkeley International Office, they must be delivered to the family members. The family members must sign the new documents after receiving them. 
F-2s may receive an electronic copy of the documents, or can choose to receive an original by mail or in person. (If receiving an electronic copy, the F-2 must print out the document and sign it.)
J-2s must receive the original DS-2019 document either by mail or in person. 
3 ) Apply for F-2/J-2 Visa Status- The J-2/F-2 family members will use their new DS-2019/I-20 and copies of all of the primary F-1/J-1 documents to apply for a visa.  If your family member is currently already in the in the U.S. in a different U.S. visa status, you must consult a BIO advisor and fully review  information regarding how to change status either by travel or by application to USCIS. When applying for the  F-2 or J-2 visa status you will also need proof of your legal marriage, in addition to the other visa or change of status requirements.
Extended Family and Domestic Partners
Extended family (parents, grandparents, siblings, aunts, uncles etc.) and domestic partners are not eligible to come to the U.S. as "dependents" in F-2 or J-2 status. They must apply for a B-1/B-2 Visitor visa, or come to the U.S. under the Visa Waiver Program. Citizens of China who already hold a valid 10 year US Visitor visa must enroll in the new EVUS system. To facilitate the process of applying for a B-1/B-2 visitor visa, students or scholars can do the following (optional):
Write a letter of invitation

You yourself can write a letter of invitation for your family member. The letter should Include the purpose of the visit, the relationship to the individual, a statement your student or scholar status here and the length of time the family will be visiting (usually less than three months). If the individual has a job to which they plan to return, it is good to mention it. If your plan to provide for the family's support while they are in the U.S., include that information as well. Use this template to prepare a customized letter

Obtain a letter of verification:

Undergraduate students can request a letter of verification of student status or transcripts and online via Cal Student Central or in person from Cal Student Central at 120 Sproul Hall. For instructions, see Where can I get a transcript or enrollment verification?


Graduate students can request a letter from their department explaining that they are in good standing and verifying any funding being provided by the department.

Scholars can request a letter from the departmental staff person who assists visiting scholars or host professor which indicates that you are a scholar in good standing in the department, your reason for being here, that you wish to return to your home country at the end of your research or teaching, and, if applicable, the amount of funding being provided by the department.

Request a financial statement from your bank (if no salary is being received).
Providing family members with all of the above papers may improve their chances of obtaining a visa. However, there is no guarantee a visa will be issued. The success of the applicant's request for a visa lies in their ability to prove that they have no intention of staying permanently in the U.S.